Cacao Bark Highly Mineralized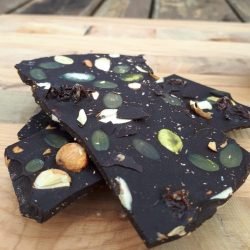 Cacao Bark - Highly Mineralized
Super Easy, Nutritious Cacao Bark that everyone will Love.
Added Plasmatic Ionic Essential Minerals, so you get an extra spark! while you indulge you in your treat.
Equipment
Saucepan

Rectangular/Square Cake Dish
Ingredients
1/2

Cup

Cold Pressed Organic Coconut Oil

1/4

Cup

Organic Cacao Butter

1/2

Cup

Organic Cacao Powder

1-2

Tbsp

Organic Almond Butter

1/2

Cup

Organic Maple Syrup

Or 2-3 Drops of Monkfruit Sweetener

1

Tbsp

Cell Restore Protein Peptide

(Optional, but recommended)

Pinch

Himalayan Salt

2-3

Drops

Plasmatic Ionic Essential Minerals

(optional, but recommended)

1

Tbsp

Organic Pumpkin Seeds,

Activated

1

Tbsp

Organic Almonds

Activated

1

Tbps

Organic Raisins.

Soaked

1-2

Drops

Culinary Essential Oil of Your Choice

i.e Peppermint, Lemon, Orange (Optional)
Instructions
Line your Dish that you are going to use first with a waxed paper or foil, it needs to be easy to peel once set.

Good size dish would be 240mm x 370mm (10 x 13 inches). Really depends on how thick you want it the Bark. This size I have given is thin (ish), so to make it thicker use a smaller dish.

You are going to put the Cacao Bark in the freezer, so have a space available to put the dish in and make sure it is flat, so the Cacao Bark freezes evenly.

Prepare the nuts, seeds and the dried fruit you are using. Roughly chop the almonds and pumpkin seeds. Drain the dried fruit if you have soaked them. Pop aside in dish for the last step.

In you saucepan, add Cacao and Coconut butter and melt on your lowest heat possible. We just want to get all ingredients mixed well, but not cook it.

Next, add to the saucepan the Cacao Powder, almond butter and mix gently.

You can now take off the heat, add your sweetener of choice, himalayan salt and Plasmatic Ionic essentail Minerals (if using).

Add essential oils or lemon/orange juice and stir gently.

Now put the dish in the freezer first, so you aren't carrying the dish and trying level it up while it is warm.

Pour the Cacao Mixture into the lined dish, make sure you get all of that goodness!

Now sprinkle in the nuts, seeds, fruits and whatever else you like.

Freezes in about 20 mins.

As this is a 'bark' recipe, it does soften very quickly, so leave it in the freezer. You can peel of the liner you have used, break up and put in a smaller dish for space saving. It won't be in there long!

Enjoy!
Notes