Passionfruit Icecream
HOMEMADE ICE CREAM!!!  You will love this. actually you can make this any flavour you like, just add in different fruits at the end of the mix.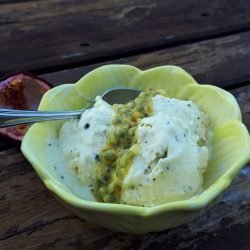 Passionfruit Icecream
Passionfruit, one of my favourite tropical fruits and with so many on the vine this year, I have to try icecream. Although I don't have an icecream maker, I improvised a bit, and the icecream just looks more 'homemade' and tastes wonderful!
This is not nut free, but you can replace the cashews for fresh coconut meat, which I would next time.
Equipment
Blender

Whisk (preferably electric and if you don't have an ice cream maker.

ice cream maker if you have one.

muffin molds (optional)
Ingredients
1

cup

Organic Coconut Cream

1

Cup

Organic Cashews

Pre soaked for 4 hours at least.

2-4

drops

Monkfruit sweetener

alternatively 1/4 Cup Organic Maple Syrup

1/2

Cup

Frozen Organic Mango

Thaw out, to blitz in blender

4-6

Organic Passionfruit

1/2

Cup

Distilled Water

1/2

tsp

Organic Vanilla Powder

squirt

Plasma Essential Ionic Minerals

Not essential, but recommend.

2-4

Drops

Lime Essential Oil

Pinch

Himilayan Salt

1/2

tsp

Lecithin
Instructions
On high speed blend the cashew into a smooth texture

Add in vanilla, Distilled water, Coconut Cream (here in NZ I use the Pure Coco Brand, so good), Lime Essential Oil, salt, sweetener of your choice. and finally the thawed mango. Blend all in.

Add in coconut cream and Plasma essential minerals (if using) and blend. The Minerals give extra support to the body, (use it in most dishes)

Transfer to a bowl and add in passionfuit pulp and mix throughly. You don't want the passionfruit pulp in the blender as it will be blitzed up too fine. You want the pips/seeds whole.

Now if you have an ice cream maker, poour in and switch on for 25-30 minutes or however long your ice cream maker brand recommends. Set in Freezer, should take about 5-6 hours depending on your temperature.

If you don't have a icecream maker, which I don't. Pop your mixtue in the freezer for 30 minutes and then take out and beat for a 15 seconds or so and return to freezer., do this for about 4 hours and it will give you a nice creamy texture.

This way you need the freezer not to be too cold and I scooped my icecream into balls and froze on a tray, so I could take out each ball and thaw out qucker. Or alternatively you could pour into muffin moulds if you have them.