Passionfruit Protein Balls
Let the kids pull up a chair!  Children love to create and these Passionfuit Balls are a great way to teach children how to create healthy snacks, while spending quality time teaching them the importance of healthy eating. Definitely great afternoon snacks after school!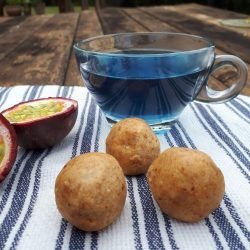 Passionfruit Protein Balls
WOWSA! These are a delight! I have ramped up these superfood bars for the athlete as well, A gorgeous tropical tang. Dessert - Snack? BOTH!!!
Ingredients
1/4

Cup

Organic Passionfuit Pulp (straine)

About 6-8 Passionfruit

1

tsp

Maca Powder

1/2

Cup

Ground Organic Buckwheat or Sesame Seeds

1

Cup

Ground Organic Almonds

few

drops

Plasma Ionic essential minerals

Optional, but highly recommended.

2-3

Organic Dates (soaked for a few hours)

Medjool dates work well for this, as they are very gooey when soaked, and sweet!

1

Tbsp

Organic Cold Pressed Coconut Oil

well softened

Pinch

Himilayan Salt
Instructions
Strain the Passion pulp from the seeds. scoop out pulp and seeds and place into a sieve, with the back of a spoon scrape the pulp into a bowl. Seeds can go into compost.

Ground up Almonds, buckwheat/sesame seeds into a flour to a fine texture, if you have some chunky bits left from the almonds it does add to a nice crunchy texture. Place into a bowl and add in Maca, salt and Protein Cell Restore Powder.

Wet Mixture. Into a blender add soaked dates, (the dates needs to be very soft.), strained passionfuit, softened coconut oil

Now, combine thoroughly. Now it's time to create these delights. Wet hands slightly, as it is a sticky consistency, but won't be once refirgerated. Wet hands a little to stop from sticking. Add a good tsp size mixture into your hands and roll into balls, place place and refrigerate for a couple of hours.

Then place into an airtight container. These will keep for 7 days approx in the fridge or you can freeze them and take out how many you wish. This will make approx 14 balls, depending on size.
Notes
Like any dish you can add or delete what ingredients you choose to your own taste. 
Organic Dessicated coconut would be a nice addition if you like a more coconut flavour.
Enjoy!