Oh so good chickpea curry!
This was a winner dish in our house. I tweaked the recipe a bit to suit our dietary lifestyle.  Lovely as a main or side lunch. You could also use this dish and pile other organic veges into the pan, rather than the veges on the side.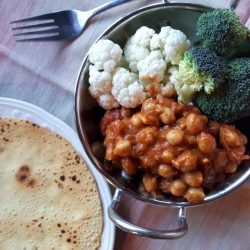 Oh so good! Chickpea Curry
This coconut chickpea curry has wonderful indian flavours. gluten, soy, nut free. I added in some unique immunity mushroom mix to the recipe as keeping the immune system in check is crucial as well as great tasting food.
I have altered the recipe slightly, as I don't eat onions, garlic or black pepper, I have omitted these, but feel free to add in if that's your thing.
Ingredients
1

tbsp

organic coconut oil (refined oil for cooking).

1

inch

organic fresh ginger

1

tbsp

organic garam masala

¼

tsp

organic turmeric

¼

tsp

organic cayenne pepper

½

tsp

12 Immunity Mushroom Mix

recommended

¼

tsp

himalayan salt

1½

Cups

organic Chopped tomatoes (or 1 can organic tomatoes).

1¾

Cups

organic cooked chickpeas (or 1 can organic chickpeas, rinse before using).

1½

Cup

full-fat organic coconut milk (or ¾ cups organic coconut cream).

2

tbsp

freshly squeezed organic lime juice

handful chopped organic coriander
Instructions
In a large pan, heat coconut oil, over a medium heat, add in ginger and other spices you are using, salt a little and cook for a few minutes.

Reduce heat a little and add spices, i.e garam masala, turmeric, cayenne, mushroom mix and cook for a further 30 seconds.

Now, add the chopped tomatoes, stir gently to mix thoroughly and continue to cook for approx 3-5 minutes, stirring occasionally until the tomatoes start to break down and dry up a bit. Now add in the coconut milk/cream and chickpeas, bring just to the boil, then reduce down to simmer.

Simmer for about 10 minutes until reduced slightly, if you don't like it too creamy then add in some water and further reduce. Add in lime juice, taste and add in some more salt if you feel you need.

Serve up with organic rice, or poppadoms, or steamed organic veges

Garnish with chopped coriander/cilantro.
Notes
As it's a quick dish, so any other veges you want to add them in bite size pieces for quicker cooking,  greens like spinach would be perfect just left on the pan once you have finished cooked and let them wilt, as spinach doesn't need much heat to cook them.