Bliss Balls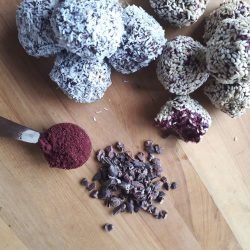 Bliss Balls
Super, duper easy! these little treats are quite sweet, so limit to one or two (or maybe three)
Ingredients
1

Cup

Dried organic fruit of your Choice, raisins, cranberries, goji berries, etc

Soaked for 10-12 Minutes

1

Tbsp

Organic Cold Pressed Coconut Oil

1

Tbsp

Organic Blackcurrant Powder

Rich Vitamin C Boost!!!

1/2

Cup

Organic Almonds

1

Handful

Organic Cacao Nibs

Desiccated coconut or sesame seeds for coating

few

drops

Plasma Essential Minerals

Optional, but recommended
Instructions
Drain Soaked fruit for a few minutes

Depending on how coarse or fine you like your almonds, either grind in coffee grinder to a coarse flour consistency, or chop. If you are nut sensitve, then you can replace the almonds for organic sunflower seeds or buckwheat.

Add fruit, nuts or seeds, cacao nibs, blackcurrant powder to processor. and whizz until well combined. Transfer to a bowl.

Melt on a low heat the organic coconut oil and add to fruit mix and mix thoroughly.

Moisten hands and roll into desired size balls and coat with your coating. I sometimes lightly toast the sesame seeds for a nutty flavour.

Plate up and refrigerate.
Notes
This is so easy and great for kids to get started on creating dishes in the kitchen. 
In this image I have varied the blend to using the H2 Super Spirulina Powder as an extra health hit!