Tropical Superfood Bars
You will love these Tropical Superfood Bars!
Mango and Passionfruit are a wonderful combo! And with the other superfood goodies they are perfect.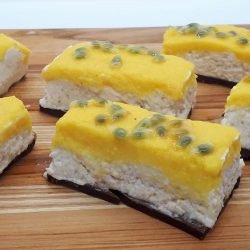 Tropical Superfood Bars
Passionfruit is one of my favourite fruits, and with so many laden on my vine, I wanted to create some healthy dessert/snacks that are packed full of superfood ingredients as well.
Equipment
Blender

Bowls

20'' square tin OR A mould that you could use rectangle bars.
Ingredients
2

Cups

Organic Coconut Yoghurt

1/4

Cup

Shredded Organic coconut

Optional

2-4

Drops

Monkfruit Sweetener (adjust to your sweetness)

or alternatively 2 tsp Agave or Maple

2

Cups

Organic Mango

1/4

Cup

Fresh Organic Passionfruit Pulp (strained from seeds)

1-2

Tbsp

Fresh Organic Passionfruit Pulp

1-2

Drops

Lime Essential Oil or 1 tsp fresh Lime Juice

1/4

Cup

Ground Organic Almonds into a flour

2

tsp

Organic Maca

2-4

Drops

Plasmatic Ionic Essential Minerals

Optional, but Recommended

300-400

grams

Organic Vegan Cacao/Chocolate

Pinch

Himilayan Salt
Instructions
Make the first Base layer
Line Tray with bakng paper, so you can cut the bars when complete. If you have rectangle moulds, this would be suitable as well.

Melt the cacao/chocolate on your lowest heat and pour into lined tray. Pop into freezer for 10-15 minutes or until it has set. Shouldn't be any longer than this as it is a thin layer
Make the Second layer - Coconut Superfood Layer
Grind almonds to a flour consistency in coffee grinder.

In a bowl add coconut yoghurt, Almond flour, Maca, Minerals, shredded coconut (if using) Himalayan salt, and sweetener and combine all thoroughly.

On top of cacao/chocolate base, evenly spread coconut yoghurt superfood yumminess and again freeze until solid, maybe an hour or two.
Make Passionfruit Topping
Using the fresh passionfruit, scoop out the flesh and into a sieve, with a back of a spoon press the pulp away from the seeds. Then add to mango puree, add Lime Essential Oil or Lime Juice and mix thoroughly. Gotta taste this! Oh my goodness!

When coconut yoghurt layer has frozen then even spread mango/passionfruit topping on top. Refreeze until solid.
Notes
If you want to have this as a raw dessert omit the first step of the melting the Cacao, and just use the Coconut Yogurt as the base. I am a raw food fan, but don't mind a little like this cooked.
You will need to take out of freezer approx 10mins before hand to eat.