Lifeforce Living Yoghurt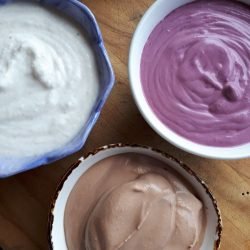 Lifeforce Living Yoghurt
Creamy Cultured Yoghurt that is alive, gut loving and a beautiful accompaniment for breakfast, sneaky snacks and even desserts.
Ingredients
Adding Superfood for flavor and nutritional Benefits!
Instructions
Warm the cream slightly in saucepan to allow ease of blending ingredients. Do not get too hot, just warm.

Place in a blender the warmed coconut cream, water, Thick It thickener, salt, sweetener of your choice, YES Protein Meal and blend on high until nice and smooth.

Transfer to saucepan again and SLOWLY bring to the boil constantly stirring. Make sure it does not burn the bottom of the pot. Once you have bought it to the boil stir for 60 seconds and lower heat to medium and continue stirring for another 3 minutes. It will start to thicken.

Once complete take off the heat and allow to cool for about 10 minutes.

If you are adding in other organic superfood powders, now is the time to do that, Add back into the blender and blend until thoroughly mixed. Or alternatively you can use a hand mixer or whizz to save pouring back into the blender.

Add in Probiotoic to the mix and stir thoroughly.

Now, pour into a clean glass container, maybe a big clean jar, this makes it easy to pour later. Cover and let sit in room temp or hot watercupboard. The warmer it is the sooner it will sour a little (as it should). Leave for 14-20 hours. Once it has cultured and becomes a little sour you can now refrigerate.
Notes
It will keep in the fridge for approx 3 weeks, can be frozen and reconstituted later, (which means after you thaw it out, blend again for a smooth consistency.
Add in other ingredients such, as chopped nuts, seeds or dried fruit.
This a yoghurt is gut loving, extra nutritional benefit with the added Almond Meal, which can also be used in smoothies and recipes as well.
I love to add in Organic superfood powders that support my wellbeing, it makes it not only more beneficial, but I get to play with flavours as well.
Enjoy!!!