Cauliflower Mushroom Cakes
I had a lot of cauliflower in my fridge and wanted other ways to use it. So found a broccoli recipe and tweaked it suit.
These cooked up nicely, and lovely with a fresh garden salad and maybe a chili plum sauce.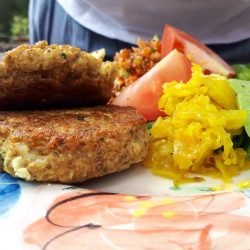 Cauliflower Mushroom Cakes
Easy Dinner or lunch or prep the night before for a Sunday breakfast.
Equipment
Bowl

Saucepan

Frypan

Food Processor
Ingredients
½

Cup

Uncooked organic Quinoa

(Makes 1 1/2 Cups Cooked Quinoa

1

Medium Head Organic Caulifower

Broken in to florets

½

Cup

Organic Mushrooms

Coarsely chopped

1

tsp

Immunity Mushroom Mix

½

tsp

Organic Garam Masala

2

Tbsp

Organic Olive Oil

¼

Cup

Organic Almond/Buckwheat flour

¼

Cup

Organic Parsley

1

tbsp

Organic Chia seeds

2

Tbsp

Filtered Water

1

tsp

Himalayan Salt
Instructions
Firstly, Rinse Quinoa, then place small saucepan and just cover and bring to boil. Simmer on low heat for 10 minutes. You want the water to be just gone from cooking. Now, let it stand for 5 minutes or so with the lid on.

While cooking the quinoa, steam Cauliflower and chopped mushroom together until tender. Drain and let cool AND dry. I put my steamer on the window silll to dry, otherwise pat down with paper towels. Make sure the cauli and mushrooms are dry.

Now further drain the quinoa so all the water is removed.

Put cauliflower, mushrooms, quinoa, in food processor and pulse until well mixed together, depending on how chunky you want the patties to be. I blitzed mine so they were well chopped up.

Fold in Immunity mushroom mix, minerals, garam masala, salt, chopped parsely and mix further.

Now for the flour. Just half the quantity of flour and fold in and mix well, so everything sticks, you may need to use all of it as it is a sticky mixture.

Heat saucepan to a low-medium heat if you want the well cooked look on the outside, place the patties that you are going to cook and sizzle for a minute each side to get that golden look, then reduce down a bit and cook for a further 5 mintues. Try not to move the patties around too much as they firm up well on their own.

This mixture makes up quite a bit so you can refrigerate for later on or make up some in advance.