Pumpkin Seed Cheese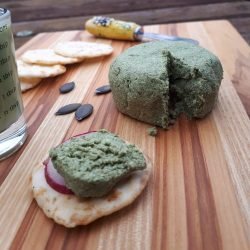 Pumpkin Seed Cheese
This is a beautiful Wasabi Pumpkin Seed Cheese recipe I was given and I have tweaked it a bit to simplify. For the full recipe follow the author link.
Equipment
Bowl, Strainer, Cheese Cloth or muslin cloth

Food processor or Whiz Blender
Ingredients
70

gm

Organic Pumpkin Seed

Soaked for 8 hours, do this first thing.

150

gm

Distilled Water

1/4

tsp

Himilayan Salt

5

gm

Organic nutritional yeast

optional

1/8

tsp

16 Strain Probiotic Powder

40

gm

Organic Pine or Almond nuts

few

Fresh sprigs of organic coriander

Optional

few

drops

Plasmatic essential minerals

optional, but recommended for higher mineral content.
Instructions
Making the cheese, you will need cheese cloth or muslin, a food processor or whiz blender.

Blend together the pumpkin seeds, salt and distilled water and nutritional yeast until almost smooth. (It's fine if it is a bit grainy).

Next add the 1/8 tsp 16 Strain probiotic powder, coriander leaves and blend for a few more seconds.

On a large strainer add a few layers of the muslin or cheese cloth, place over a bowl and add in the cheese, cover with cheese/muslin cloth. Now add on top of that a plate for a little added weight to compress the cheese. Press slightly.

Leave the cheese in room tep (20-25c) for 24 hours or warmer place for 8-12 hours. the cheese will start the fermentation process during this time. (You use a dehydrator initally, if you have one for 4 hours at 40°C) and then a further 8 hours in a warm place.

After this fermentation process is complete I strained some of the liquid out, so it's not too runny. (Leave a little in to keep moist) Add in the ground pine or almonds and mix together. Cheese complete!
Notes