Cauliflower Immunity Mushroom Soup
Only one in our household likes creamy soup, which happens to be me, so I made this while I was on my own.
So I found this recipe and tweaked it a bit, as I don't use onion or garlic.
Two of my favourite vegetables, organic cauliflower and mushrooms and this recipe worked a treat!  while using supreme supplements in the soup to further boost my health AND I also get beautiful herby oil left over!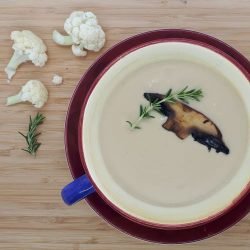 Cauliflower Immunity Mushroom Soup
I have been wanting to make a cauliflower soup for a long time, and decided I needed to try a recipe that I could add in the 12 Immunity Mushroom Extract and still taste great, mushrooms and cauliflower always go good together and this recipe didn't disappoint!
Ingredients
Herb Oil
1

Cup

Organic Olive Oil

Few

Sprigs

Fresh Rosemary or Thyme
Instructions
Make the Herby Oil
In the skillet on a low heat, add the organic olive oil and whatever herb you are using and very gently simmer for about 5 minutes. As the skillet is shallow you want to avoid burning the herb you are using.

Once done, take off the heat and allow to cool, I put mine on my window sill, with my window open to speed up the cooling process.
Now for the Cauliflower Mushroom Soup Prep
Boil the jug and in a cup add the mushroom mix and vege stock and pour in some boiling water to dissolve.

Next, heat up saucepan and add stock. Break up cauliflower into small pieces and add to saucepan and let simmer until tender enough to blend. Also add in salt. Approx 10 minutes.

Now your Herby Oil, should have cool down enough to strain into a measuring cup as you are going to pour some of that herbed oil into the cauliflower mix.

Once your cauliflower is cooked, take off the heat and also let this cool down a bit as you are going to put this into your blender.

Once cooled add to blender and add in ¼ Cup of the Herbed Oil, the Plasma essential minerals and blend until very smooth. It will thicken up nicely.

Return to Saucepan and heat up, and in your skillet fry up the ½ brown mushroom to garnish.

You will also have some lovely herbed salad oil now left over to drizzle over your other favourite dishes. Keep oil in fridge. (Add in a little squeezed lemon juice to further it's fridge life and flavour).