Asparagus Quinoa Salad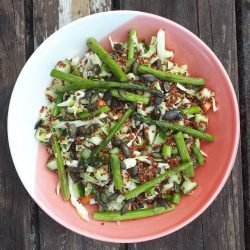 Asparagus Quinoa Salad
Asparagus is in season and I love it raw or cooked. Combined with Red Quinoa for nutritious benefits and color.
Ingredients
1/2

Cup

Organic Red Quinoa

1/2

Organic Telegraph Cucumber

1

Organic Carrot

8-10

Stems

Organic Asparagus

Handful

Organic Pumpkin Seeds
Dressing
1-2

Tbsp

Organic Cold Pressed Olive Oil

1

tsp

Organic Horseradish/Mustard Sauce

few

drops

Plasmatic Ionic Essential Minerals

Optional, but recommended

Juice

1

Organic Orange

Zest

Of the Orange

Shake

Himalayan Salt
Instructions
Rinse and cook the Red Quinoa first for 7 minutes. Take off heat then let rest for another 2 minutes, then drain to cool.

Dice cucumber, carrot or any other salad ingredients you would like to add.

Optional for the pumpkin seeds to add in lightly pan fried or raw. Pan fried does give the pumpkins seeds a nice flavor and crunch to the salad.

Chop asparagus into 4 and lightly panfry, then let cool.

To a bowl add in drained quinoa, cucumber, carrot, etc. Add pumpkins seeds leaving a few behind to dress on top, as with the apsaragus.

Drizzle in dressing and combine thoroughly. Dress the salad with remaining pumpkin seeds and asparagus.
Notes
Quinoa is a great source of protein, fibre, minerals, vitamins. The red variety is higher in the antioxidant properties than the other varites.  It is gluten-free and has a subtle nutty flavor.
Asparagus,  When is season is a great food for many dishes, raw or cooked. High in nuttrients, folic acid, potassium, Vitamins A, B6, C.  (actually comes from the lily family! Who would have known. ) Low in Calories too!