Orange Spark!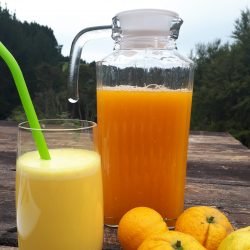 Orange Spark
This organic freshly juiced orange juice hits the spot, in fact I had to make another glass while making this recipe for you, it's just so good.
Ingredients
1-2

Tbsp

Organic Cold Pressed Olive Oil

1-2

Slivers

Organic fresh Ginger

few

drops

Plasmatic Ionic Essential Minerals

optional, but a key ingredients (link attached)

1

8 oz Glass

Organic freshly juiced oranges
Instructions
Into blender add 1 glass of organic orange juice.

Finely chop ginger and add to blender,

Add in Organic Olive Oil and the essential minerals. (key ingredients here)

Blitz on high speed for 5-10 seconds so it chops up the ginger. when done you will have a nice creamy (ish) juice.
Notes
Why I like this Lifeforce Orange juice is that it's another way to have Olive Oil blended into a drink that tastes good, you are getting healthy fats without de-naturing the oil by heating it at a cooking temp.
The ginger gives it a nice bite, you could add a sprinkle of chili if you wanted a bit more of a hit, but with the ginger it's not pungent and most will love it, if they like ginger.
The ginger like olive is anti-inflammatory and has many health benefits too!.