Roasted Tomato/Plum Sauce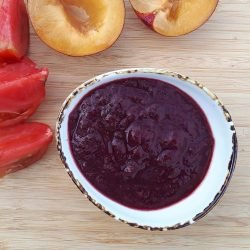 Roasted Tomato / Plum Sauce
With my garden so abundant of beautiful tomatoes, one way of using them up was to make a tomato and plum sauce. Simple to make, tasty and accompany many dishes. With some vinegar for longevity use to bottle and could also freeze well.
Equipment
Oven Tray for tomatoes.

Blender

Food Processor Depending on what you have and how chunky you want it.

Baking dish for plums
Ingredients
3

Kilo

Organic Tomatoes Approx (1 oven tray full)

3

Tbsp

Organic Olive Oil

3

Tbsp

Organic Balsmic Vinegar

¼

tsp

Organic Chili Powder (or fresh depending on heat preference)

1

tsp

Plasmatic Ionic Essential Minerals

Optional, but recommended.

1

tsp

Himilayan Salt

Any other seasonal organic vegetables, i.e celery, carrots, zucchini, etc.

Optional

1

tsp

Dried Oregano or fresh
Plum Sauce
1

Kilo

Organic Plums, halved and pitted

2

Tbsp

Organic Liquid Honey

1

tsp

Organic Vanilla extract

2-3

Slices

Organic Lemon
Instructions
Making the Tomato Sauce
In the roasting tray add organic olive oil and single layer the tomatoes, cut side down. If adding optional vegetables nestle them inbetween the tomatoes.

Roast for 45-50 minutes. or until vegetables (if added) are soft and tender and tomato skins are starting to brown, this will make removing of the skins very easy.
Making the Pum Sauce
We want the pitted plums to go into the oven at the same time.

In a bowl dissolve honey and vanilla.

In a baking dish place the plums face side up and pour the honey over the plums with the thinly sliced lemons.

Cover with foil and also bake for 45 mins.
Bringing it together.
Once the tomatoes and vegetables are done, let cool for a bit and remove the tomatoes skins.

Take the cooked plums out also and let cool for a bit.

Add tomatoes, vegetables, herbs, balsamic vinegar, plums, salt and place in blender or processor until desired texture is achieved.

Use right away or let cool and pour into jars for storage or this can be frozen also.
Notes
If you want more of a plum flavor to come through use 50 / 50 of plums and tomatoes.