Golden Beet Chutney
Immunity Sshrrrmm Jerky
I used the large flat brown mushys for this recipe, as it was easy to cut into strips and keep them fairly even for dehydrating. But of course you could use any mushroom you are partial too.
Instructions
Clean the mushrooms cut into even strips or size as best as you can for even drying.

In a bowl add all the ingredients listed. Place sshrmms in a flat container and pour the mixed marinade over the sshrrmms.

let marinate 4-5 hours, stirring as much as you can the marinade over the sshrrmmms to absorb it all, optimally overnight if you can.

Set dehydrating at minimum setting and depending on size and thickness, should be about dry in 3-5 hours. Cool off and you are ready to go.
I used my Golden Beets out of my garden for this recipe, of course any beet would suit. Make it in minutes and nice flavours.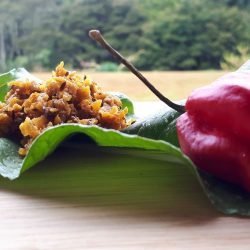 Golden Beet chutney
First attempt put a whole very 'hot' chili in and it was bit much for me. Second attempt, half the chili and was perfect! Lovely chutney for so many occasions.
Equipment
Frypan or skillet

Food Processor
Ingredients
2

Medium

Organic Beets - grated or chopped

1-2

Organic Chilies red or green depending on how hot your taste is.

1

tsp

OrganicCurry leaves dries or 1 sprig fresh

½

tsp

OrganicCumin Seeds

2-3

Slivers organic Ginger

2

tsp

Organic peanuts or almonds

Himalayan Salt

1

Tbsp

Olive Oil

Organic Lemon Juice or Orgaic Tamarind Paste
Instructions
Heat pan or skillet with oil, when medium hot add nuts until golden brown, careful not to burn them. Add Curry leaves and chilis. Fry until curry leaves are crisp. Now scoop all aside to a plate to cool.

Now for the beet, don't have the pan too hot for this. Add grated or chopped beetroot in the pan for 2-5 mintues until slightly tender.

In food processor, add cool spcies and beetroot. whiz up until you get your desired texture. Or alternatively if you have finely chopped the beet you can just add in the spices and omit whizzing it up in the processer. Just depends on how you like it. Add lemon juice or tamarind paste and salt.

Transfer to serving bowl or storage jar.