Tarka Dahl
One of my favourite dishes! I have been making this for many years and it never fails! Tarka Dahl has become a staple in our house for it's taste, simplicity to make and a great dish to pile all your fav veges or just the lentils with a sprinkle of cilantro/coriander or parsley.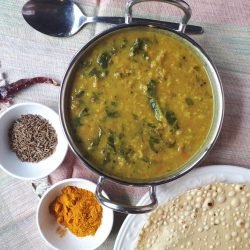 Tarka Dahl
Such a indian favourite of mine. FULL of flavor, feeds many at one sitting, or a couple over a few nights. Very easy to prep and cook.
Ingredients
1

tsp

Organic Cumin Seeds

1

tsp

Organic Cumin Powder

1

tsp

Organic Coriander Seeds

1

tsp

Organic Coriander Powder

1

tsp

Organic Turmeric Powder

1

tsp

Organic Fenugreek Seeds

1

tsp

Organic Mustard Seeds

¼

tsp

Organic Chili Powder

Depending on how hot you like it, add more to taste

1-2

Organic Chilis

3-4

slivers

Organic Ginger

1

tsp

Himilayan Salt

2

Tbsp

Organic Olive Oil

1

Cup

Organic Moong or Toor Dahl

few

Sprigs

Organic fresh coriander
Optional vegetables to add
2-3

Organic Potatoes, or Kumara or Pumpkin

1

Medium

Organic carrot

Some green leaf, such as Organic Kale, silverbeet or anything you have in the garden/fridge you like.
Rice Variations to add.
1

Cup

Organic Basmati White Rice cook for 15-20 mins

This will feed 3 adults, so adjust accordingly.

1

Cup

Organic Quinoa is another great option if you don't eat rice. Cook for 12-15 mins. Drain well, serve immediately.

This will feed 3 adults, as well.
Instructions
Measure out the Lentils you are using, you could also use yellow splits peas, but the texture of the Moong dahl is preferable in my book. Rinse and soak minimum 4-5 hours.

Heat up wok with olive oil to a medium heat.

Drain soaked lentils, rinse again and now prep your ingredients. I pop the seeds in one small dish and the powders in another.

Slice up finely, ginger and chilis,

In the wok, add ginger, chilis and Cumin seeds, coriander seeds, mustard seeds, fenugreek seeds. Lighty sizzle for a few minutes until the coriander starts popping, this releases the flavor of the seeds.

Carefully add some hot water, and add the powdered spices and stir gently to dissolve everything.

Add lentils and simmer for about 20 minutes or so. Taste test to see if the dahl is cooked. Keep checking and stiring occasionaly and don't let it dry out, you may need to keep adding some more water.

If adding vegetables as I do, chop up some root vegetables to your liking or you could grate them if you don't like the chunky texture. If you add in these chopped up in cubes then add in 10 mins approx before the 20 mins is up.

If adding grated then add at the end of the 20 minutes and finish off cooking for another 5-10 minutes.
Cooking of Rice
Thoroughly rinse organic rice or organic quinoa.

Saucepan of water add rice or quinoa, bring to simmer, white rice will take 15 minutes as will the quinoa.

If using organic brown rice, this will take approx 20mins. Drain and keep hot in steamer or sieve.
Notes
As for there are many variations of lentils. I have found the Moong dahl to be the better texture, but really whatever you have access to is fine, even yellow split peas, organic if you can.
🙂