Super Skin Smoothie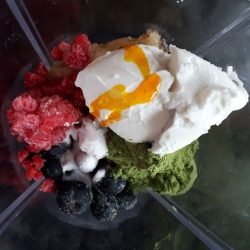 Super Skin Smoothie
I made this nourishing Super Skin Smoothie to build up and maintain a foundation of healthy skin, hair and nails.
A Blend of these unique vitamins, minerals and supplements will keep the focus of protection and nourishment in check.
Ingredients
Unique Supplements to add for premium skin health - Click on Links for specific supplements
Instructions
Blend all together on high speed and enjoy the massive benefits.
Notes
This smoothie is purposely formulated not just for your skin,hair and nails, but with H2 Miracle Moringa, H2 DHa Omega 3, Vit D and K comes, many other health giving  minerals, and vitamins.
Correct Vitamin e oil while offering the skin protection, can also benefits greatly cardio support, ovarian cancer, post menopause conditions with Ostepenia, lower fatty liver disease.