Raw Buckwheat and Chia Porridge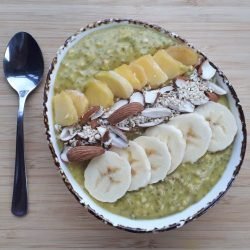 Buckwheat and Chia Porridge
Found this lovely recipe from the 'The Raw Kitchen' book.
Tweaked it (as I do) a bit to suit my every increasing health lifestyle.
The Turmeric, Golden Ray Liquid Light (OMG!) Vit C, are highly anti-inflammartory and great to add in daily.
Equipment
1 Bowl

1 High Speed Blender

1 Serving Bowls
Ingredients
½

Cup

Raw Sprouted Organic Bucketwheat.

½

tsp

Organic Turmeric Powder

1

Cup

Organic Almond Mylk

1

Tbsp

Organic Coconut Cream
Smoothie Fruit and Supplements
Topping
½

Banana

Any organic seasonal fruit

Toasted sesame seedsd

Sprinkle of organic pumpkin seeds

Organic chopped up nuts is desired.
Instructions
If you dont already have sprouted buckwheat on hand, then rinse thoroughly and soak the buckwheat in clean water for 2 hours to activate the buckwheat and cover.

Now, make the smoothie. Place ½ Banana, Mango and any other desired fruit, supplements, coconut cream, almond mylk and a high speed blender and whiz up thoroughly.

Into a bowl pour in your smoothie, add soaked buckwheat, and let sit for 10-15 mins, stirring occasionally, this gives the chia seeds time to activate. Chill for 15mins.
Make up Your Porridge
In your serving bowl pour in the porridge, add in any fruit if you like, but you do already have fruit in the smoothie. Add the topping! Volah!
Notes
Turmeric powder doesn't absorb into the body very well, but the coconut cream is a great fat and acts as a carrier for the Turmeric.  As Turmeric is such a great anti-inflammatory spice you want it to be effective. Alternatively you could use half an avocado and this will give the smoothie a nice creamy texture, it will also make the smoothie quite filling.
Organic Quinoa is also another wonderful plant based alternative to porridge.