Kumara and Cress Soup
If you are lucky enough to have access to Watercress then this recipe is a nice hearty soup.
Watercress and Kumara go so good together, I added in a little chili at the end for a little bite! Just a smidge.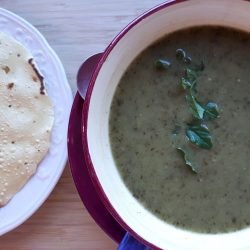 Kumara and Cress Soup
Tasty, easy to make Sunday Soup! With a splash of essential minerals too you have a very mineralised soup!
Ingredients
500

grams

Organic Kumara (Sweet Potato) 1 Pound

1

tsp

Vegetable Stock

1

tsp

Himalayan Salt

6

Cups

Freshly picked Water cress (about 500gms)

6

Cups

Clean water

¼

tsp

Organic Chili (optional) but gives a nice bite.
Instructions
Half fill saucepan wiht clean water and heat while you wash the kumara and chop up.

Add Kumara, salt, vegetable stock to saucepan and cook until soft, depending on size, it will take about 15-20 mins.

While the Kumara is cooking, wash and chop up the watercress.

Once the Kumara is cooked, add watercress and cook for a further 3-5 mins.

Let the Soup cool, add Plasma minerals and chili if using.

Puree the soup. Once it has cooled enough to add to a blender, pour the content and whizz up. Depending on your preference of consistency I liked this soup a little chunky, so I just pulse a few times until I get the consistency I like. If you prefer a smoother soup then blend a litte longer.