Hot Velvet
Hot Pink!  Rich in natures colour, which is always a great sign health is up on offer.
If you like to juice, then set some beet aside for this delight!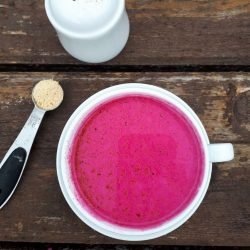 Hot Velvet
Velvety Beet! I really want to try this. It's a nice change from juicing and you don't miss out on all the nutrient rich benefits that Beet offers.
Instructions
If you have a juicer, then wash and juice the beet and ginger, then pour into cup you are using.

In sausepan, add your organic plantbased mylk add and slowly heat up, add Plasmatic Minerals if using. This will give the latte a extra minerals zing.

Once hot, pour over beet juice. Garnish with nutmeg powder to taste.
Notes