Forest Forage Tonic
Freshly cut herbs, flowers, leaves, twigs are a beautiful way to make your own infusion.
Presently I have access to many acres of native bush and up on offer is a myrid of abundance of wild native herbs.
My organic garden is also a great source, as not every plant deemed a 'weed' is unuseful, just undiscovered. This beautiful dandelion is bitter but rich in nutrients.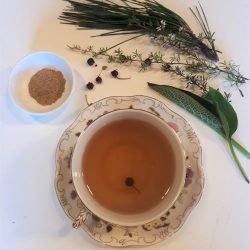 Forest Forage
DIY brew. If you can access some wildly grown organic herbs from a local forest, neighbours garden (or your own) then you can make up a wonderful infusion of minerals, vitamins and flavors.
Please make sure you know the identity of any herbs, flowers, etc and they are safe to consume.
Ingredients
sprigs

Pine needles

2-3

leaves

Comfrey

few

Kanuka spike and flowers

sprinkle

Cranberries

small

squirt

C60WS Champion Patented Molecule
Notes