Dream EEE
Dream EEE, was born for the purpose of empowering your body with two Vitamins one must have plenty of, for proper immune function and great health.
Vitamin e is an essential vitamin, (meaing the body doesn't make vitamin e. so we have to incorporate it from our foods).  Well known for skin protection, it also host many other benefits too, especially for post-menopausal women.  Important to note: that vitamin e is fat soluble and needs to have good fats in the diet as a carrier.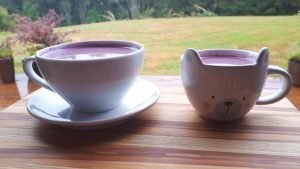 Vitamn C, a wonderful antioxidant, all round vitamin that needs to be in your daily regime for great health.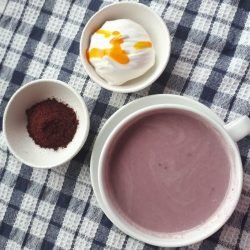 DreamEEE
This Luxury Latte I have focused on two very important vitamins essential to the body for great Lifeforce Immune function and various health benefits.
Vitamin E and Vitamin C
Instructions
Add half of the plant-based mik into the saucepan and slowly warm.

Remainder of the plant-based myk and blackcurrant powder in a shakeable container to dissolve the powder well. Then add remaining ingredients and add to saucepan.

Heat slowly, ensuring you DO NOT boil the mylk. We want to retain as much of the vitamin nutrient content as possible. The C60 will assist greatly to this, but we want to minimize any denaturing.
Notes