Courgette/Zucchini Spirals
Super easy tasty dish. Courgettes/Zucchinis are very easy to grow and one plant will product many, so this is a great dish to use them up.  Because of the simplicity of this dish, it is perfect to take to gatherings. it's always to great to take a green dish to dinner parties and this fits the bill.
Courgettes/Zucchinis provides a good source of Potassium, Vitamin C and Folic Acid.
Raw foodists, this is your noodle version.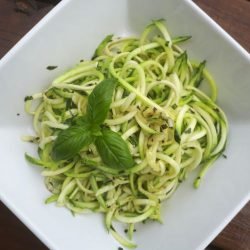 Courgette/Zucchini Spirals
This is such a wonderful easy raw side salad dish for many different occasions. Super tasty!
Ingredients
1

large

Organic Courgette/Zucchini

2

Tbsp

Organic Cold Pressed Olive Oil

1/2

Doz

Organic Basil Leaves

few

pinches

Himalyan Salt

few

drops

Plasma Ionic essential minerals

Optional, but highly recommended (link attached)
Instructions
Wash Organic Courgette/Zucchini

Finely chop Basil leaves and add to Olive Oil and salt and let infuse while you make the Courgette / zucchini spirals.

If using a spiraliser, select the medium attachment, so the strips are not too wide or too narrow, You don't have to use a spiraliser of course, anything that can cut the courgette/zucchine into strips.

If you are using a sprialiser, you may want to cut them up a bit as sometimes they can be very long. Place into bowl and add in Basil infused oil. Plate up and you are ready to serve! Tasty!