Coconut Snap – Frozen
This is how you get your family topped up with Vitamin C and I am sure they wont mind.  This frozen coconut yoghurt is so good! I would let the kids eat to their hearts content with this dessert.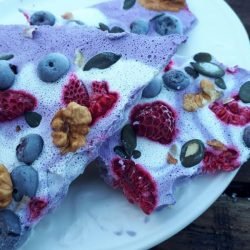 Coconut Snap - Frozen
I found this recipe from Soulfully tasty and tasty it is! I put my own twist on it, but you can design away. Frozen dessert, breakfast, Lunch you choose! This is a delightful recipe. No cooking required. You choose your topping.
Kids will love this!
Ingredients
Suggested Toppings
Handful

Fresh Mixed organic Berries of your choice

1/2

Cup

Organic Walnuts, or pistachios, or any nuts you like

Sprinkle

Organic Pumpkin Seeds

1/4

Cup

Coconut Shreds

Optional
Instructions
Divide the the yoghurt evenly into two bowls.

In one bowl add the blackcurrant and whisk up to get the superfood distributed through evenly.

In the other bowl add the salt, finely chopped dates and cacao butter.

Have a tray lined with parchment paper ready. I put the tray in the freezer before I poured in the mix, so I didn't have to move it.

Pour in one mix of the yoghurt unevenly around the tray and then the blackcurrant mix unevenly around, so you get a swirling effect.

Adding desired topping. Freeze for a mnimum of 4 hours. Then you are ready to 'Snap' off your dessert.