Beet Noodles and Walnut Pesto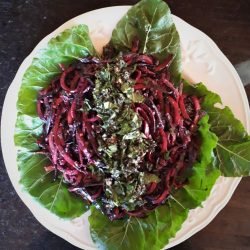 Beet Noodles and Walnut Pesto
This raw, noodle/pasta is a lovely dish for a gathering. It's vibrant, raw, and of course nutritious and your guests will be drawn to the colour!
It's a generous dish, easy to make. For a more vibrant colour allow overnight marinating.
Ingredients
Pesto Ingredients
1

Cup

Chopped organic Basil

1/2

Cup

(40gms) Chopped organic walnuts

Alternatively, almonds, pinenuts.

1/4

Cup

Organic cold pressed sunflower oil

Cold Pressed Olive will work well too!

1-2

drops

Plasmatic Ionic Essential Minerals

Optional, but adds extra lifeforce!
Noodle / Pasta Ingredients
2 - 3

Medium

organic zucchini/courgettes.

3

Large

organic beetroot,

1/4

Cup

organic cold pressed Sunflower Oil.

1/2

tsp

Himilayan Salt.

1

Tbsp

organic lemon juice.
Instructions
Make the pesto first.
Chop the organic nuts you are using. This is a coarse Pesto, so you can leave it a little chunky.

Chop up the Basil, again doesn't have to be very fine.

In a bowl add nuts, basil and remaining ingredients, i.e Sunflower oil and minerals and set aside. Actually, this pesto was tasted better the next day, so you could make it in advance for the flavours to really gel.
Prep the Noodles / pasta
Make the Beet juice first. Beets are quite juicy, so either a hand grater will work perfectly or if you have a cold pressed juicer then that is also optimum. If grating you will need to squeeze the beet juice from the beet itself, either a clean cheese cloth or tea towel. Remember beet juice stains, Keep the beet leaves if you have them for the plating up.

Keep the beet itself aside as you can use that for my beet chutney.

Once you have separated the beet juice to a bowl add in the remaining marinating ingredients, i.e sunflower oil, lemon juice and salt. Again nothing wasted this can be consumed after the dish. Very tasty and great for the liver/kidneys.

Make the noodles / pasta with the organic zuchinni/courgette, using a mandelin or noodle machine, it is quite easy to make as it is a soft(ish) vegetable. If making it into a noodle rather than a wide pasta shape, it will be easier to cover with the beet juice. the wider pasta shape just gives you a different look aestheticely.

Place in noodles/pasta into a flat tray or dish so the beet juice can cover.

Pour the beet juice over the noodles/pasta and leave to mariniate for a few hours.
Assembly time.
Strain the noodles into a sieve and let it completely drain. Remember to keep the juice.

If you still have the beet leaves then arrange the leaves or green leave, i.e lettuce, spinach, what ever you like and arrange the noodles / pasta on top carefully.

Top with Pesto and you're done!
Notes